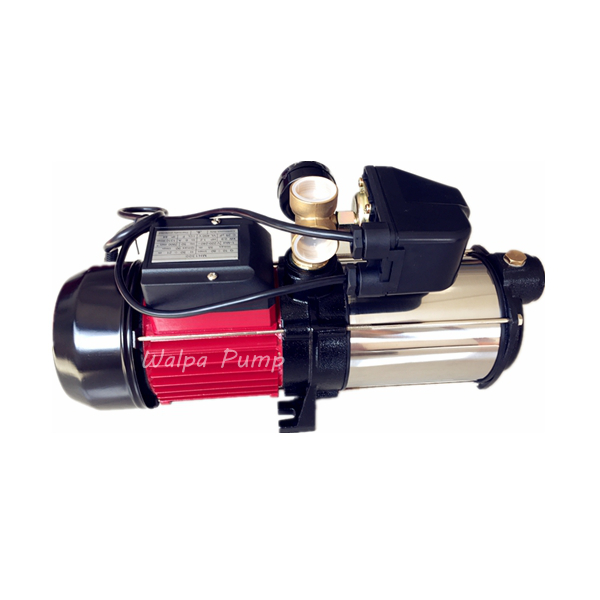 BASIC INFO
MH Series Automatic System Multistage Pump 2/3/4/5/6 Stage
The structure for this pump is:
Surface pump+pressure switch+pressure gauge+brass 5 way connector +1.5m Cable wth Europlug

Applications & Installation
This Series centrifugal horizontal multistage water pumps able to develop high pressure and a high water lift with a comparatively low power consumption. They are suitable in domestic fittings by tank pressure groups, for small sprinkler irrigations and car washing because of their silent running and very good features,
Working Limits
◆Max fluid temperature up to 80°C
◆Max ambient temperature up to 40°C
Motor
●Two-pole induction motor (50Hz/60Hz)
●The speed is 2850 r/min
●Insulation Class: B/F is available on request
●Protection Class: IP 44/IP54 is optional
●Continuous duty
●Cooling: External ventilation
●Total suction lift up to 7 mt.
●Voltage:110V/120V/220V/240V/380V
Materials
★Pump Body: Cast iron
★Front Cover: Cast iron
★Motor Casing: AISI 304 stainless steel
★Impeller: Noryl / AISI 304 Stainless steel.
★Diffuser: Noryl(PPO)
★O-ring:NBR/EPDM
★Shaft :45# carbon steel/ AISI 316 Stainless steel / AISI 416 stainless steel
★Mechanical Seal: Ceramic/Graphite/ Silicon carbide
Notes
Pumps should be installed in a dry and covered area, protected against the weather.